Honghui Teach You How To Quick Fix Your Salon Chair
Having great salon equipment is an ideal way to add style and creativity to your shop. Have you ever walked into a salon and saw salon chair covers that were ripped? Perhaps they had holes that customers had picked away at over time. Maybe the chairs are a bit uneven and leaning to the side. A salon chair that doesn't look great can make you feel negative towards the quality of the salon? Yes, salon equipment is more than just an aesthetic -- it has to be functional and in good condition.
As a salon owner, it is important to know that how your customers view your shop is essential to your success. Nothing is worse than having a new customer second guess your work when they enter the front door simply because your chairs are old. Whip your salon into shape immediately by investing in new beauty salon chair covers. Your integrity as a shop owner is at stake.
Having beautiful salon chair covers not only gives a great first impression, but it assures a great customer experience. Whether your customers are there for a quick shape up, or will be pampered for several hours, your salon chair covers need to be functional. If your customers don't feel comfortable in the chair they are seated in, they may not be encouraged to return. Those kinds of less than desirable experiences can easily be shared amongst their friends, further encouraging them not to patronize your salon as well. Chair covers can also protect your chair from future damage, and keep them looking good longer, so you don't have to replace them as often.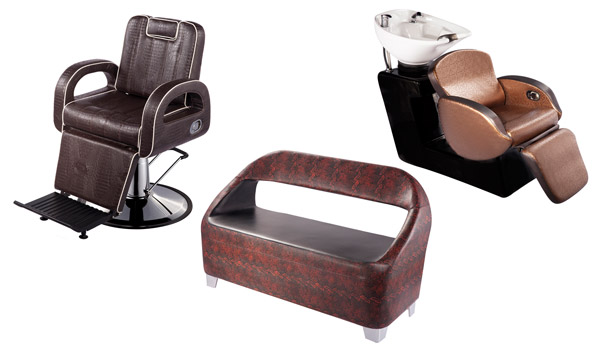 Your hair stylists will benefit from having the best in salon equipment as well. Your styling chairs should be easy to maneuver so that they can get the proper chair height. Long hours of standing on their feet in the wrong position can cause injury over the long term. It should swivel without difficulty or making any noises. Many hair stylists rent the chair they use on a daily basis so having beautiful salon chair covers can help them to take ownership of their working space. Your covers should also be easily cleaned, with no stains from hair color or other chemical treatments.
Your salon chairs are essential to the success of your salon. What may seem like a small detail can ultimately be the element that makes or breaks your clients' first impression. It is not just about aesthetics. Your salon chairs should create an ambiance that makes your clientele feel welcome and also be functional for your clients as well as for your stylists.