Honghui Hairdressing Furniture Helps You To Revamp Your Beauty Salon
Going to a beauty salon should be a relaxing, enjoyful experience for the client. The design and layout of your salon plays a crucial role in this experience. A number of different design elements come into play when setting the ambience in your beauty salon including lighting, hairdressing furniture, décor, colour schemes and music. Before putting your design cap on, consider your salon's clientèle and aim to reflect this with the salon's décor.
Below are 4 tips for you to revamp your beauty salon: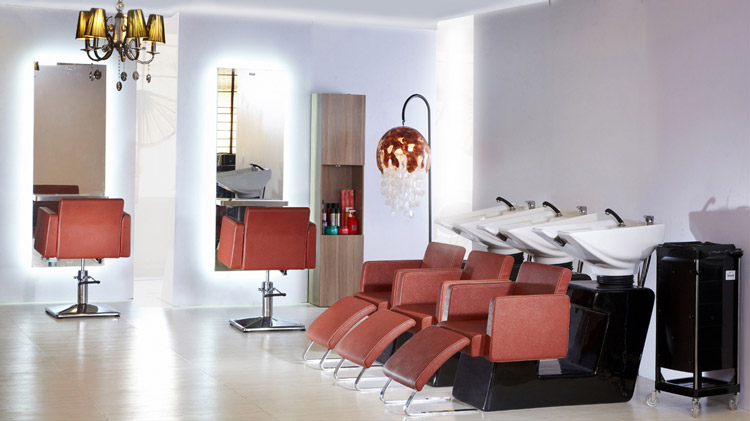 Colour scheme and theme
Before deciding how you want your beauty salon to look, think of a colour scheme and theme. Both of these elements come hand-in-hand. The colour and theme of your salon can define whether it is a busy hive of activity or a serene place of relaxation. If you want your beauty salon to have a modern, edgy look, you can be a little bolder with your colour scheme. Think sleek blacks with bright contrasting colours like red or green. To create a more relaxing environment, think earthy browns and greens with wooden panelling or natural décor.
Lighting
One of the most important design elements to invest in for your beauty salon is high-quality lighting. If available, you should always make use of as much natural lighting as possible to create a bright and airy space. For treatment areas, install wall lighting and soft overhead lighting to give you a clear view of the client whilst also providing a natural, flattering light. For relaxation treatments, uplighters or wall sconces provide a soft and relaxing glow.
Furniture
Once you have chosen a design theme for your beauty salon, you can then use a variety of furniture to bring this theme to life. Whether you have opted for an antique, contemporary or ultra-modern design style, every inch of your beauty salon should follow suit. For example, HongHui's newyly developed retro B032 barber chair and A297 Styling Chairs are perfect for an antique-themed beauty salon, whereas the A274 Chair would fit perfectly into an ultra-modern salon set-up. Being a beauty salon, the only requirement is that furniture is easy to clean, durable and can stand up to repeated use.
Organisation
Having an organised salon says a lot about you and your business. Keep reception areas free from clutter by storing magazines in decorative holders and providing plenty of coat racks. These areas should also be made as comfy as possible with plush waiting sofas and cushions. Minimalistic shelving units displaying beauty products should also be cleverly positioned within close proximity of the reception area and sales counter. Finally, work stations should be free from clutter, for example, by tucking curling tongs, brushes and straighteners into drawers or storage bins when not in use.
With beauty treatments becoming increasingly popular and competition becoming increasingly fierce, beauty salons must learn how to set their business apart from the crowd. Salon design is one way in which to do this, but be careful not to overdo it; understated is often better than overstated.
HONGHUI Beauty & Hairdressing Equipment Co., Ltd manufactures all kinds of salon furniture. We suppply styling chairs, shampoo chairs, baber chairs, waiting chairs, mirror, hair steamer, water system and so on. Contact us now: honghui@hh1995.com